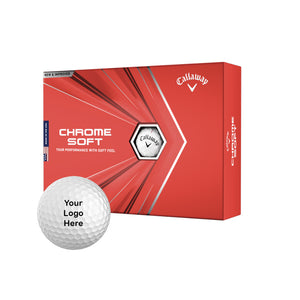 Callaway Chrome Soft Custom Logo Golf Balls (12 Ball Pack)
Chrome Soft is the only ball that has the SoftFast Core with low compression and the Tour Urethane Cover. You don't have to choose between feel and distance anymore.
Low Spin Off The Tee For Exceptional Distance
Low spin off the driver for maximum ball speed and distance with the SoftFast Core. The core is the key to long, straight distance off the tee, and our optimized HEX Aerodynamics makes Chrome Soft even longer by reducing drag and increasing lift.
Low Compression For Incredibly Soft Feel
The low 65 compression lets you compress the ball on iron shots for incredibly soft feel, and it's amazing around the greens. Now, all golfers can compress the ball like a Tour player.
A high level of control for aggressive shots into the green comes from soft feel and the Tour Urethane Cover. It's built for consistency that you can depend on with every shot.
Custom Logo General Information:
Minimum Order: 12 Dozen
FREE plate fees
FREE PMS match...Send us your PMS numbers with your logo
Eps or Illustrator file required
Production  & Shipping Times:
Lead Time: 5-7 Business Days
Shipping Time:  3-5 Business Days
Email Proof adds 1-2 days to production time
2 Sided Logo adds 5 days to production time
7/8" color logo on ONE side of the golf ball
Print up to 5 PMS colors
Vector artwork is required for all new logos
Adobe Illustrator or Photoshop files are preferred. Other file formats supported: .EPS, .TIFF, .JPG 300 dpi or higher with a clear resolution.
Purchase order must contain PMS (Pantone) coated spot colors for the artwork to be printed.
If PMS coated spot colors are not supplied, colors will be matched as close as possible. 
On process (CMYK) logos color match is not guaranteed, however colors will be matched as close as possible by the factory.
Color match will be +/- ½ a shade under natural light.
Artwork will be created, modified or restored for a nominal fee.
Artwork will be printed at maximum size (7/8" Diameter) unless the artwork is supplied to size requested and instructions are listed on the purchase order.
If you would like to see a proof, please request one
Dozen packaging: 3 Balls per Sleeve, 4 Sleeves per Dozen
15 Ball Packs: 3 Balls per Sleeve, 5 Sleeves per Pack
Golf Balls are numbered 1,2,3,4
If you have any questions regarding this product then please do not hesitate to 
contact us.