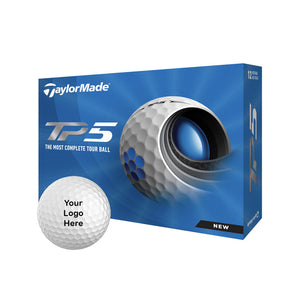 Taylormade TP5 Custom Logo Golf Balls (12 Ball Pack)
Taylormade have a 4 week production lead time.
Tour Control With Complete Performance
Packed with new technologies, the all new TP5/TP5x just got even longer with new 'Tour Flight' dimple technology. There's no ball faster, no ball longer, and no ball better than the most complete Tour ball.
The key to achieving enhanced speed without negatively affecting spin performance comes from TaylorMade's proprietary 5-layer ball construction. Including a Tri-Fast Core that delivers maximum carry and low drag and a Dual-Spin Cover that features an ultra-soft, highly durable cast urethane cover, TP5/TP5x offer complete tee-to-green performance without sacrifice.
A new Tour Flight Dimple Pattern results improved aero for more carry distance. Coupled with a new HFM material that delivers higher ball speeds through a greater rebound effect. HFM acts like a tightly wound spring that builds energy and rebounds quickly, generating more ball speed.
TP5 offers lower compression, lower launch, and more wedge spin to help improve your short game—ultimately, TP5 provides a more workable golf ball with softer feel.
Custom Logo General Information:
Minimum Order: 12 Dozen
FREE plate fees
FREE PMS match...Send us your PMS numbers with your logo
Eps or Illustrator file required
Production  & Shipping Times:
Lead Time: 20 Business Days
Shipping Time:  3-5 Business Days
Email Proof adds 1-2 days to production time
2 Sided Logo adds 5 days to production time
7/8" color logo on ONE side of the golf ball
Print up to 5 PMS colors
Vector artwork is required for all new logos
Adobe Illustrator or Photoshop files are preferred. Other file formats supported: .EPS, .TIFF, .JPG 300 dpi or higher with a clear resolution.
Purchase order must contain PMS (Pantone) coated spot colors for the artwork to be printed.
If PMS coated spot colors are not supplied, colors will be matched as close as possible. 
On process (CMYK) logos color match is not guaranteed, however colors will be matched as close as possible by the factory.
Color match will be +/- ½ a shade under natural light.
Artwork will be created, modified or restored for a nominal fee.
Artwork will be printed at maximum size (7/8" Diameter) unless the artwork is supplied to size requested and instructions are listed on the purchase order.
If you would like to see a proof, please request one
Dozen packaging: 3 Balls per Sleeve, 4 Sleeves per Dozen
15 Ball Packs: 3 Balls per Sleeve, 5 Sleeves per Pack
Golf Balls are numbered 1,2,3,4
If you have any questions regarding this product then please do not hesitate to 
contact us.