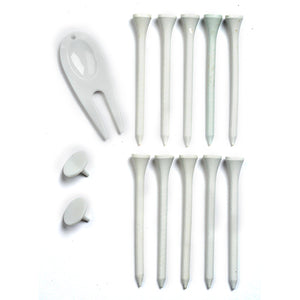 Golf Tees, 2 Ball Markers & 1 Divot Tool Combo Packs x 50
These combo packs are great for golf tournaments, general events, promotions, golf course distribution, etc....
Each combo pack contains either the 2 1/8", 2 3/4" or the 3 1/4" golf tees. Two markers and a divot repair tool are also available. The bags are made of durable poly plastic with a resealable encloseure.
All combo items are white in color with no print.
We offer low minimum order requirements and we can be flexible on quantities not listed. Please contact us for your requirements.