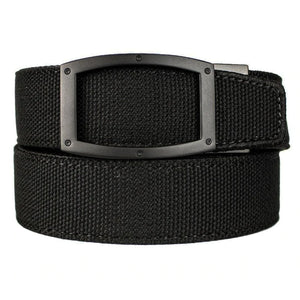 NEWPORT BLACK V.4 - Fits upto 50"
Into hiking? This should be your belt! They're light and can support a knife or two. These are our staff's go-to belts for summertime when wearing shorts. Also looks impressive with our favorite jeans. Great if you live in a humid environment.
Golf or casual or hiking ratchet belt
New tip for 2019
These belts go well with shorts and jeans for that relaxed look
Black cotton strap and a textured black finished buckle
Buckle size 1 5/8" x 2 5/16" – Belt strap width is 1 3/8"
Fits up to 50" waist
Sizing Instructions:
Turn the belt to the backside and use our scaling system to find your pant size. (US PAT. Number 10,966,489 B2)
 Add 2" to your pant size, and using scissors, cut along the dotted line.
Note: We recommend that you add 3 - 4 inches to your pant size before cutting. You can always trim farther down if needed